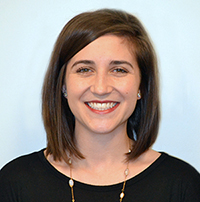 Alexa C. M. Smarr
Agent Associate
Expertise:
Horticulture, Home Gardening, Vegetable Gardening, Integrated Pest Management
Office Location:
UME - Baltimore County
Title
Organizational Unit
Master Gardener Coordinator
Alexa C. M. Smarr
amccull4@umd.edu
Baltimore County Extension Office
1114 Shawan Rd
Suite 2
Cockeysville, Maryland 21030
Phone (main): 410-887-8090
Fax: 410 785-5950

Master Gardener Coordinator
Alexa C. M. Smarr
amccull4@umd.edu
Home & Garden Information Center
12005 Homewood Road
Ellicott City, Maryland 21042-1542
Phone (main): 410 531-5572
Fax: 410 531-5567

Alexa Smarr joined University of Maryland Extension (UME) as Master Gardener Coordinator/Horticulture Agent Associate in October 2016 after graduating from Clemson University with her B.S. in Horticulture. Alexa has a variety of experiences in the horticulture industry working with the Carolina Panthers Grounds Department, the Tryon Palace Historic Gardens and Grounds, the George Washington's Mount Vernon Horticulture Department, and managing a one acre vegetable garden at Hinton Rural Life Center in Hayesville, NC. 
With her role at UME, Alexa oversees the Master Gardener Volunteer program, training and coordinating community volunteers who serve to educate citizens on safe and sustainable horticultural practices. She fields inquiries from the community regarding pest and disease diagnostics, plant and weed identification, and other related topics and gives lectures throughout the region.