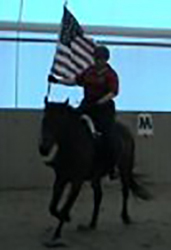 Elaine L Bailey
Senior Agent
Expertise:
4-H Youth Development, horse, livestock, animal science, leadership
Office Location:
30 Duke Street- Room 103- Prince Frederick
Title
Organizational Unit
Elaine L Bailey
elbailey@umd.edu
Calvert County Extension Office
30 Duke Street
P.O. Box 486
Prince Frederick, Maryland 20678
Phone (main): 410 535-3662
Phone (alt): 301 855-1150, ext. 337
Fax: 410 535-2438

Elaine Bailey has worked for the College of AGNR for more than 30 years. In July 2007, she moved from the Institute of Applied Agriculture to University of Maryland Extension. Bailey is the 4-H Educator for Calvert County. An Animal Scientist by training, she has taught numerous classes at the University of Maryland at College Park. Among her past teaching responsibilities are ANSC 101 Principles of Animal Science, INAG 232 Equine Business Management, INAG 201 Personnel Management, ANSC 220 Livestock Management, INAG 110 Oral Communications, and many other courses. Bailey has held leadership positions in the Washington, DC American Registry of Professional Animal Scientists, and has served on both the Calvert Farmland Trust Board of Directors and on the Calvert Agricultural Land Preservation Advisory Board. Since joining University of Maryland Extension, Bailey has become involved in a variety of pursuits. She has served as President of the MD Association of Extension 4-H Agents, Chaired the Faculty Staff Advisory Committee, and recently completed a stint as the Northeast Region Vice President of National Epsilon Sigma Phi.  Bailey is involved with the UME 4-H Horse Program, and serves as a 4-H Horsemanship Standards Examiner. She is a member of eXtension's HorseQuest Community of Practice, where she assists with answering questions about horses, and developing and reviewing various learning lessons and other support documents for inclusion on the web site. Bailey earned a B.S. Degree in Animal Science, with a minor in Pure Science, from Clemson University, and an M.S. Degree in Agricultural and Extension Education from Iowa State University.