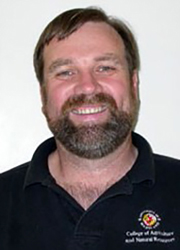 Gary E Seibel
Research Engineer
Office Location:
0530C AnSc/AgEn Building
Title
Organizational Unit
Gary E Seibel
gseibel@umd.edu
University of Maryland
College of Agriculture and Natural Resources
Environmental Science & Technology
Environmental Science & Technology
0530C AnSc/AgEn Building
College Park, Maryland 20742
Phone (main): 301 405-1181
Fax: 301 314-9023

Gary Seibel is currently the Supervisor of the ENST Project Development Center. Primary duties include administration of Center operations and personnel, equipment and instrument design consultation and technical training of undergraduate and graduate students. Gary received his B.S. in Biological Resources Engineering in 1994 and is currently conducting research for fulfillment of his M.S. requirements.