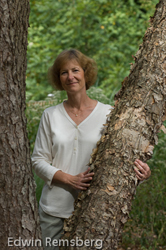 Debra Ricigliano
Extension Program Assistant
Expertise:
website management, ornamental horticulture, social marketing, turf management
Title
Organizational Unit
Extension Program Assistant
Debra Ricigliano
dricigli@umd.edu
Home & Garden Information Center
Maryland Master Gardener Program
12005 Homewood Road
Ellicott City, Maryland 21042-1542
Phone (main): 410 531-0109
Fax: 410 531-5567

Debbie Ricigliano is a graduate of AGNR's Institute of Applied Agriculture. As HGIC's Lead Horticulturist, her expertise in all things related to ornamental horticulture and turf as well as her attention to detail and drive to keep current on horticulture topics, social marketing, and website management have proven invaluable to the Center. Debbie began working at HGIC in 1997.