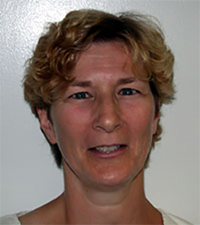 Jane Kostenko
Principal Agent Associate
Office Location:
26737 Radio Station Way, Suite E-2, Leonardtown- MD 20650
Title
Organizational Unit
Principal Agent Associate
Jane Kostenko
kostenko@umd.edu
St. Mary's County Extension Office
26737 Radio Station Way, Suite E-2
PO Box 663
Leonardtown, Maryland 20650
Phone (main): 301 475-4013
Phone (alt): 301 405-1316
Fax: 301 475-4483

Jane Kostenko
kostenko@umd.edu
Food Supplement Nutrition Education
10632 Little Patuxent Parkway
Suite 435
Columbia, Maryland 21044
Phone (main): 301 475-4013
Phone (alt): 301 432-2767, ext. 342
Fax: 301 475-4483

I started with University of Maryland Extension in St. Mary's County in January, 2005, as a part-time nutrition educator after 16 years with our county's office on aging. My work is funded by the Food Supplement Nutrition Education program which focuses on nutrition education for low-income families. Working with early elementary school-aged students, plus adults with young children, are my special areas and that work takes me to four local elementary schools that are eligble for FSNE services (George Washington Carver, Green Holly, Park Hall, and Lexington Park Elementary Schools). I bring a nutrition station or activity to many school-sponsored activities that parents and students attend. I also offer nutrition education classes at these schools during the school year (some as direct teaching, but many through trained trainers--the teachers) and summer Lunch and Learn program. Other community-sponsored events, held in the greater Lexington Park area, invite low-income families to learn about and/or interact with local agency representatives. Past work with Walden-Sierra's COMPASS program, a residential rehabilitation program, included monthly nutrition/physical activity discussions. I have also worked one extra day each week with the State office developing special projects; these projects have been distributed throughout all of MD FSNE.