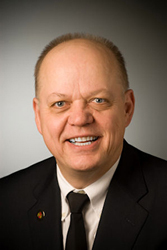 Mark A Varner
Professor Emeritus
Expertise:
Dairy Science, international agriculture, Internet, Extension
Office Location:
Rm. 2147 Animal Sciences Center
Title
Organizational Unit
Mark A Varner
markv@umd.edu
University of Maryland
College of Agriculture and Natural Resources
Animal & Avian Sciences
1413 AnSc/AgEn Building
8127 Regents Drive
College Park, Maryland 20742-2311
Phone (main): 301 405-1366
Phone (alt): 410 386-2760
Fax: 301 405-7980

Mark Varner was born and raised on a dairy farm in Minnesota. He received his B.S. degree with Distinction in Animal Sciences from the University of Minnesota, his M.S. degree in Animal Sciences from Washington State University and his Ph.D. degree in physiology from North Carolina State University. He joined the faculty at the University of Maryland in 1981 as an Assistant Professor and Extension Dairy Scientist, and remained at Maryland until his retirement in December of 2011. Dr. Varner was promoted to Associate Professor in 1988 and to Full Professor of Animal & Avian Sciences in 1997. From 1992 to 1993, Mark was a Visiting Professor in the Veterinary Faculty at Utrecht University, The Netherlands. From 1999-2002 and 2005-2010, Dr. Varner served as Director of the Graduate Program in Animal Sciences and the Coordinator of the Undergraduate Program in Animal Sciences, respectively. Dr. Varner was appointed to the rank of Professor Emeritus in 2012. Dr. Varner taught all, or part, of five classes on campus and conducted research in dairy cattle reproductive management and lameness of dairy cattle. He maintained an active Extension program providing dairy-related information via the Internet. He was co-creator of Dairy-L, the first and most successful Internet network of experts in agriculture. Drs. Varner and Roger Cady developed Dairy-L, and were awarded the Alfa-Laval Agri Dairy Extension Award by the American Dairy Science Association. He was the author or co-author of over 100 journal articles, book chapters, abstracts for professional meetings, proceedings chapters and newsletter/popular press articles. He was also a popular invited speaker at international, national and regional conferences. Mark was also the College's Acting Associate Director of International Programs, the Coordinator for eXtension and Online Learning and was actively involved in the eXtension national effort through DAIReXNET. He served the College in the International Programs in Agriculture and Natural Resources Office. He also bloged as DairyScienceMark for public and private-sector dairy farm advisers and 'tweeted' as @DairyAdviser. Mark has been married to Eileen Jewison for more than 40 years, and they have two daughters. The family still resides in a Maryland suburb of Washington, DC.