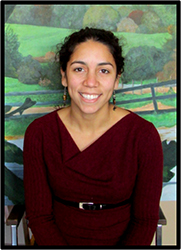 Vigi Zabala
Agent Associate
Expertise:
FSNE, nutrition, educator, SNAP-ed
Office Location:
Harford County
Title
Organizational Unit
Vigi Zabala
vzabala1@umd.edu
Harford County Extension Office
3525 Conowingo Road, Suite 600
Street, Maryland 21154
Phone (main): 410-887-8090
Fax: 410 638-3053

Vigi Zabala
vzabala1@umd.edu
Food Supplement Nutrition Education
10632 Little Patuxent Parkway
Suite 435
Columbia, Maryland 21044
Phone (main): 410-638-3255
Fax: 410 715-6907

Vigi is the nutrition educator and project leader for UME's Food Supplement Nutrition Education program in Harford County. She holds a Bachelor of Science on Food Science & Human Nutrition from the University of Florida, and a Master of Public Health from Johns Hopkins University. She is a Registered Dietitian/Nutritionist, and has experience in maternal and child nutrition from having worked as a nutritionist for the Johns Hopkins WIC program. Currently, her work as an educator revolves around teaching children in collaborating Harford County Public Schools about the importance of nutrition and a healthy lifestyle. She also works within FSNE to review and translate materials from English to Spanish in order to ensure a broader population can be positively impacted by the UME Food Supplement Nutrition Education program.