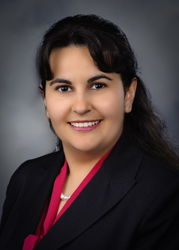 Larisa C. Cioaca
Lecturer
Expertise:
Business Management, Communication, Leadership
Office Location:
2110 Jull Hall
Title
Organizational Unit
Larisa C. Cioaca
lcioaca@umd.edu
University of Maryland
College of Agriculture and Natural Resources
Institute of Applied Agriculture
2123 Jull Hall
4196 Stadium Drive
College Park, Maryland 20742-2525
Phone (main): 301-405-4693
Fax: 301 314-9343

Larisa Cioaca joined the Institute of Applied Agriculture (IAA) in August 2015 to teach and develop agricultural business management, communication, leadership and entrepreneurship courses. Born in Romania, she earned her bachelor's degree in International Transactions from West University of Timisoara and her MBA from University of Maryland, College Park.
Before working in higher education, Ms. Cioaca was a Media Relations Manager at Lockheed Martin Corporation, where she was responsible for managing media outreach on strategic financial and management topics, as well as managing the company's media measurement and media training programs. Prior to that, Ms. Cioaca served as Communications Manager for the AES Corporation and W. R. Grace & Co.
Ms. Cioaca has significant experience in translating business needs into communication, public relations and marketing strategies and tactics that drive employee engagement, organizational awareness and brand value. She has secured positive news coverage for her organizations in a variety of media outlets, including TIME, Forbes, The Wall Street Journal, Reuters, Bloomberg, The Washington Post, Washington Business Journal, Aviation Week and Defense News. She is a recipient of the 2014 IABC Heritage Region Silver Quill Award.