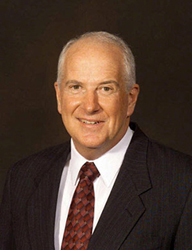 Richard E Just
Distinguished University Professor
Office Location:
2113 Symons Hall
Title
Organizational Unit
Richard E Just
rjust@umd.edu
University of Maryland
College of Agriculture and Natural Resources
Agricultural & Resource Economics
2200 Symons Hall
7998 Regents Drive
College Park, Maryland 20742-5535
Phone (main): 301 405-1289
Phone (alt): 410 749-6141, ext. 108
Fax: 301 314-9091

RESEARCH FOCUS
Welfare Economics
Risk and Production
Quantitative Policy Analysis
Technology Adoption
Management of Public Research
Pesticide Regulation
RICHARD E. JUST is Distinguished University Professor Emeritus and former Chair of the Department of Agricultural and Resource Economics at the University of Maryland at College Park. Earlier, he was professor of agricultural and resource economics at the University of California, Berkeley, where he received both an M.A. in statistics and Ph.D. in agriclutral economics in 1971 and 1972, respectively. He has served as the elected president of the Agricultural and Applied Economics Association (AAEA), which was formerly the American Agricultural Economics Association. He is a fellow of the AAEA and a former editor of its American Journal of Agricultural Economics, the leading journal of agricultural economics in the world. He has received more research award recognition from the AAEA than any other person. His research has ranged widely among fields in agricultural production, risk, trade, quantitative policy analysis, development, technology adoption, and resource and environmental issues. One survey of the agricultural economics journals found his research to be cited more than any other author. He was listed in Who's Who in Economics as one of the major economists since 1700 after only 12 years of his professional career.