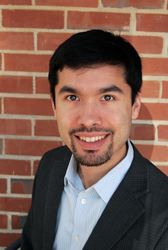 Alex Chan
Agent
Expertise:
Youth development, Healthy Dating, Intergroup contact, Identity development
Office Location:
6707 Groveton Dr. Clinton MD 20735
Title
Organizational Unit
Alex Chan
alexchan@umd.edu
Prince George's County Extension Office
6707 Groveton Drive
Clinton, Maryland 20735
Phone (main): 301 868-9366
Fax: 301 599-6714

Alex Chan is the new 4-H Youth Development Educator for Prince George's county. He recently completed a PhD in Human Development and Family Studies at Auburn University. In Alabama, he worked with the Department of Child Abuse and Neglect Prevention to evaluate their youth-focused programs, and with the Alabama Healthy Marriage and Relationship Education Initiative providing youth-focused programs on the topics of healthy relationship formation. He also holds a license as a marriage and family therapist and practiced for several years while in Alabama. Growing up in California, he was a youth volunteer in his county parks system for many years. He is thrilled to have the opportunity to put many parts of his background to use through UME's youth development programming.