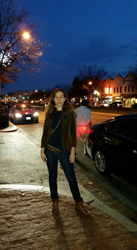 Molly Chlebnikow
Faculty Assistant
Expertise:
Smarter Lunchrooms, Community Development, Systems Change
Office Location:
443-518-0333
Title
Organizational Unit
Molly Chlebnikow
mchleb@umd.edu
Food Supplement Nutrition Education
10632 Little Patuxent Parkway
Suite 435
Columbia, Maryland 21044
Phone (main): 410 715-6903
Fax: 410 715-6907

Molly is a PhD candidate in urban and regional planning from the University of Hawai'i Manoa with a focus on community planning and community-based economic development. Previously, before becoming a Smarter Lunchroom's assistant, Molly was a research analyst in the Center for Strategic Research, a division of the organizing department of the AFL-CIO. When Molly is not hiking with a loved one or reading a book she is most likely in the streets demanding justice while working with her sisters and brothers on transforming structures with radical love and care.