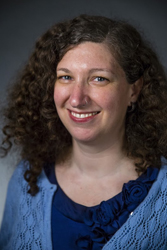 Stephanie Ritchie
Librarian
Expertise:
sustainable agriculture, local foods, new farmers, organic farming, information
Title
Organizational Unit
Stephanie Ritchie
sritchie@umd.edu
William E. Kirwan Hall Math Building, Room 1403L
4176 Campus Drive
College Park, Maryland 20742
Phone (main): 301 405-9153

As Liaison to the College of Agriculture and Natural Resources, I support the research information needs of faculty, staff and students, and manage the University of Maryland collections in agriculture and related disciplines. I've been involved in agriculture work on-farm, at the policy level, and in libraries for over twenty years. Let me use my experience to help you!