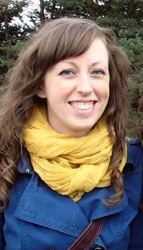 Amy Hollar
Agent Associate
Expertise:
Nutrition, Nutrition Education, Food Insecurity
Office Location:
10632 Little Patuxent Parkway, Suite 435 Columbia, MD 21044
Title
Organizational Unit
Amy Hollar
ahollar@umd.edu
Food Supplement Nutrition Education
10632 Little Patuxent Parkway
Suite 435
Columbia, Maryland 21044
Phone (main): 443-283-7525
Fax: 410 715-6907

Amy Hollar has an M.S. in Biological Sciences and is a Registered Dietitian. Her background and interests include research, teaching, gardening, public health, public policy, nutrition education, and working to reduce health disparities. She specifically works on the FSNE Securing Food Resources for Families Initiative.