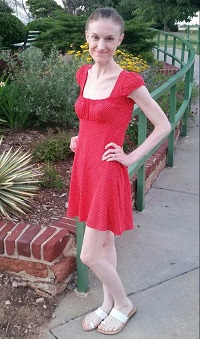 Natalie Gahm
Agent Associate
Expertise:
4-H Environmental Science, 4-H STEM, 4-H Camps
Office Location:
Carroll County
Title
Organizational Unit
Natalie Gahm
ngahm@umd.edu
Carroll County Extension Office
700 Agriculture Center
Westminster, Maryland 21157
Phone (main): 410 386-2760
Phone (alt): 888 326-9645
Fax: 410 876-0132

Natalie Gahm joined the University of Maryland Extension - Carroll County office in 2017 as a 4-H Development Agent Associate. A native of Carroll County herself, she received her B.A. in Communications from nearby Hood College in 2007. However, in the years that followed, Natalie discovered that she possessed a passion for the wonderful and wild world of insects, and she ultimately earned her B.S. and M.S. in Entomology from Oklahoma State University in 2015 and 2017, respectively. Her Master's research focused on the ecology of grassland leafhoppers, with particular emphasis on the genus Balclutha. Natalie is thrilled to finally be back in her beautiful home state and able to give back to Carroll County via environmental science and STEM 4-H programming as well as 4-H camping.