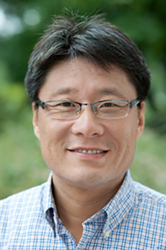 Seong-Ho Lee
Associate Professor
Expertise:
Cancer Biology, Molecular carcinogenesis, Chemoprevention, Phytochemicals and functional foods, Metabolism and Obesity
Office Location:
3307 Marie Mount Hall
Title
Organizational Unit
Seong-Ho Lee
slee2000@umd.edu
University of Maryland
College of Agriculture and Natural Resources
Nutrition & Food Science
0112 Skinner Building
4300 Chapel Lane
College Park, Maryland 20742-7521
Phone (main): 301 405-4532
Phone (alt): 301 405-1291
Fax: 301 314-3313

RESEARCH FOCUS
Nutritional and pharmacological chemoprevention: Find promising dietary compounds and chemo preventive agents for cancer prevention
Molecular carcinogenesis: Identify molecular target genes associated with cancer and elucidate mechanisms of their actions
Nutritional biochemistry: Describe the function of nutrients at the cellular/molecular level and physiological mechanisms of action of various nutrition-related processes
Education and Professional Experience
Research Assistant Professor, Pathobiology, University of Tennessee (2011)
Postdoctoral fellow, Pathobiology, University of Tennessee (2007)
Postdoctoral fellow, Nutritional Biochemistry, University of Wisconsin-Madison (2004)
Postdoctoral fellow, Growth physiology, Colorado State University (2002)
Ph. D. Animal Nutrition & Physiology, Korea University (1999)
M. S. Animal Nutrition, Korea University (1993)
B. S. Animal Science, Korea University (1991)
Research Interest
Chronic diseases such as cancer, obesity and diabetes are the leading causes of death and disability in the United States. My researches have been focusing on the prevention of chronic diseases using strategies of gene expression/deletion or functional compounds present in human diet, phytochemicals, and drugs. In addition, we identified several genes have anti-tumorigenic and obesity-suppressing activities. Currently, my lab is focusing on two main areas. The first area is chemoprevention and molecular carcinogenesis of human cancer. The overall goal of this direction aims to identify new effective chemopreventive agents/human cancer susceptibility genes and elucidate their mechanisms of action using in vitro cell culture and rodent cancer models. The second area of research aims to prevention of metabolic syndrome through basic and preclinical studies.
Principle Academic Responsibility
50% research and 50% teaching
Publications (Selected from 64 publications)
(#, co-authors Dr. Lee mentored; *, corresponding author; IF, 5-year impact factor)
Jiang X#, Kim KJ#, Ha T#, Lee S-H*. (2016) Potential dual role of activating transcription factor 3 in colorectal cancer. Anticancer Research 36(2):509-516  PMID:26851004

Clark R#, Lee S-H*. (2016) Anticancer properties of capsaicin against human cancer. Anticancer Research 36(3):837-843 (Review) PMID:26976969

Shao HJ#, Lou Z#, Jeong JB, Kim K-J#, Lee J#, Lee S-H*. (2015) Tolfenamic acid suppresses inflammatory stimuli-mediated activation of NF-ĸB signaling. Biomolecules&Therapeutics 23(1):39-44. PMID:25593642

Kim K-J#, Lee J#, Park Y, Lee S-H*. (2015) ATF3 mediates anti-cancer activity of trans-10, cis-12-conjugated linoleic acid in human colon cancer cells. Biomolecules&Therapeutics 23(2):134-140. PMID: 25767681

Shao HJ#, Jeong JB#, Kim K-J#, Lee S-H*. (2015) Anti-inflammatory activity of mushroom-derived hispidin through blocking of NF-kB activation. Journal of the Science of Food and Agriculture 95(12):2482-2486. PMID:25355452

Clark R#, Lee J#, Lee S-H*. (2015) Synergistic anti-cancer activity of Capsaicin and 3,3'-Diindolylmethane in human colorectal cancer. Journal of Agricultural and Food Chemistry 63(17):4297-4304.

Jeong JB#, Lee J#, Lee S-H*. (2015) TCF4 is a molecular target of resveratrol in prevention of colorectal cancer. International Journal of Molecular Sciences 16:10411-10425. PMID:25961950

Choi J#, Xiaojing Jiang#, Jeong JB#, Lee S-H*. (2014) Anti-cancer activity of protocatechualdehyde in human breast cancer cells. Journal of Medicinal Food 17(8):842-848 PMID:24712725

Lee S-H, Min KW, Zhang X, Baek SJ. (2013) 3,3'-diindolylmethane induces activating transcription factor 3 (ATF3) via ATF4 in human colorectal cancer cells. Journal of Nutritional Biochemistry 24:664-671 PMID:22819556.

Jeong JB#, Lee S-H*. (2013) Protocatechualdehyde possesses anti-cancer activity through downregulating cyclin D1 and HDAC2 in human colorectal cancer cells. Biochem. Biophys. Res. Commun 430:381-386. PMID:23159608

Jeong JB#, Shin YK#, Lee S-H*. (2013) Anti-inflammatory activity of patchouli alcohol in RAW264.7 and HT-29 cells. Food and Chemical Toxicology 55:229-233 PMID:23348408

Jeong JB#, Choi J#, Lou Z#, Jiang X#, Lee S-H*. (2013) Patchouli alcohol, essential oil of Pogostemon cablin, exhibits anti-tumorigenic activity in human colorectal cancer cells. International Immunopharmacology 16:184-190 PMID:23602914

Jeong JB#, Choi J#, Baek SJ, Lee S-H*. (2013) Reactive oxygen species mediate tolfenamic acid-induced apoptosis in human colorectal cancer cells. Archives of Biochemistry and Biophysics 537:168-175. PMID:23896514

Jeong JB#, Yang X#, Clark R#, Choi J#, Baek SJ, Lee S-H*. (2013) A mechanistic study of the proapoptotic effect of tolfenamic acid; involvement of NF-κB activation. Carcinogenesis PMID:23784084

Lee S-H*, Richardson RL, Dashwood RH, Baek SJ. (2012) Capsaicin represses transcriptional activity of β-catenin in human colorectal cancer cells. Journal of Nutritional Biochemistry 23:646-655. PMID:21764279

Lee S-H, Krisanapun C, Baek SJ. (2010) NSAID-activated gene-1 as a molecular target for capsaicin-induced apoptosis through a novel molecular mechanism involving GSK3β, C/EBPβ, and ATF3. Carcinogenesis

Lee S-H, Bahn JH, Whitlock NC, Baek SJ. (2010) Activating transcription factor 2 (ATF2) controls tolfenamic acid-induced ATF3 expression via MAP kinase pathways. Oncogene 29: 5182–5192.

Lee S-H, Cekanova M, Baek SJ. (2008) Multiple mechanisms are involved in 6-gingerol-induced cell cycle arrest and apoptosis in human colorectal cancer cells. Molecular Carcinogenesis 47:197-208. PMID: 18058799

Lee S-H, Bahn JH, Choi NC, English E, Safe SJ. (2008) ESE-1/EGR-1 pathway plays a role in tolfenamic acid-induced apoptosis in colorectal cancer cells. Molecular Cancer Therapeutics 7(12):3739-3750.

Lee S-H, Yamaguchi K, Kim J-S, ElingTE, Safe S, Park Y, Baek SJ. (2006) Conjugated linoleic acid stimulates an anti-tumorigenic protein NAG-1 in an isomer specific manner. Carcinogenesis 27(5):972-981.

Baek SJ, Okazaki R, Lee S-H, Martinez J, Kim J-S, Yamaguchi K, Mishina Y, Martin WD, Shoieb A, McEntee MF, Eling TE. (2006) Nonsteroidal anti-inflammatory drug activated gene-1 over-expression in transgenic mice suppresses intestinal neoplasia. Gastroenterology 131(5):1553-1560. PMID: 17101328

Lim YC$, Lee S-H$, Song MH, Yamaguchi K, Yoon J-H, Choi EC, Baek SJ. (2006) Growth inhibition and apoptosis by (-)-epicatechin gallate are mediated by cyclin D1 suppression in head and neck squamous carcinoma cells. Eur J Cancer 42:3260-3266. PMID: 17045795 $equally contributed

Lee S-H, Kim J-S, Yamaguchi K, Eling TE, Baek SJ. (2005) Indole-3-carbinol and 3,3'-diindolylmethane induce expression of NAG-1 in a p53 independent manner. Biochem. Biophys. Res. Commun. 328:63-69. PMID: 15670751

Lee S-H, Dobrzyn A, Dobrzyn P, Rahman SM, Miyazaki M, Ntambi JM. (2004) J. Lipid Res. 45(9):1674-1682.

Yamaguchi K, Lee S-H, Eling TE, Baek SJ. (2004) Identification of nonsteroidal anti-inflammatory Drug-activated gene (NAG-1) as a novel downstream target of phosphatidylinositol 3-kinase/AKT/GSK-3β pathway. J. Biol. Chem. 279(48): 49617-49623.

Rahman SM, Dobrzyn A, Dobrzyn P, Lee S-H, Miyazaki M, Ntambi JM. (2003) Stearoyl-CoA desaturase 1 deficiency elevates insulin signaling components and downregulates protein-tyrosine phosphatase 1B in muscle. Proc. Natl. Acad. Sci. USA. 100(19):11110-11115.

Lee S-H, Engle TE, Hossner KL. (2002) Effects of dietary copper on the expression of lipogenic genes and metabolic hormones in steers. J. Anim. Sci. 80(7):1999-2005. PMID: 12162670

Lee S-H, , Hossner KL. (2002) Coordinate regulation of ovine adipose tissue gene expression by propionate. J. Anim. Sci. 80(11):2840-2849. PMID: 12462251

Lee S-H, Hossner KL. (2002) Effects of bovine colostral ultrafiltrates on growth and differentiation of 3T3-L1 preadipocytes. Biotechnol Appl Biochem. 36:205-212. PMID: 12452804