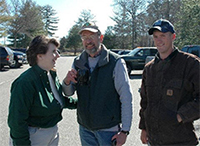 Conrad N Arnold
Senior Agent Emeritus
Office Location:
501 Court Lane- Room 208- Cambridge- MD
Title
Organizational Unit
Conrad N Arnold
carnold@umd.edu
University of Maryland
College of Agriculture and Natural Resources
University of Maryland Extension Agriculture & Nat
1210 Symons Hall
7998 Regents Drive
College Park, Maryland 20742-5551
Phone (main): 301 405-2436
Fax: 301 405-2963

Educational Background 1986, West Virginia University, MS, Agriculture Education 1971, West Virginia University, BS, Agriculture Education Programs of Special Interest 4-H Shooting Sports - Educator provides leadership to the MD 4-H Shooting Sports Committee; serves as a National Instructor and was appointed (5/02) to the National 4-H Shooting Sports Committee where he still serves. (2011). Educator provides leadership to the National Committee and serves as Communications & Technology Representative on this National Committee and has responsibility for maintaining the website of the National 4-H Shooting Sports Program, www.4-hshootingsports.org. In addition, this educator maintains 3 listserv lists that support communications this National Committee. 119 of our 154 currently active MD 4-H volunteer instructors teaching shooting sports in 2010 reported that 8,037 Maryland youth had a 4-H shooting sports experience through clubs (2661), summer camps (2065), fairs (1449), special interest programs (876), events, activities and other educational programs (986). These 119 instructors reported having given 12,981 hours of volunteer 4-H time in support of this program. The value of this volunteer time (09 data) according to the Independent Sector is $20.85 per hour or a contribution valued at $270,653. Thendara 4-H Center – Educator provides leadership to the development and management of the Thendara 4-H Center and its Management Board of Directors. This includes development of goals, operating agreements, facility rentals, general operations, maintenance & improvements. The Thendara 4-H Center is owned by the MD 4-H Foundation and is directed by a volunteer management board. The Center is made available as a youth and community education and support center and serves a diverse population.