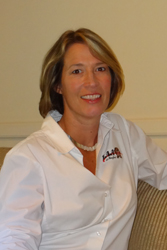 Glori D Hyman
Lecturer & Director
Expertise:
Applied Agriculture, Communication, Agriculture Education, Certificate Programs
Office Location:
2123 Jull Hall
Title
Organizational Unit
Glori D Hyman
gdhyman@umd.edu
University of Maryland
College of Agriculture and Natural Resources
Institute of Applied Agriculture
2123 Jull Hall
4196 Stadium Drive
College Park, Maryland 20742-2525
Phone (main): 301 405-4685
Phone (alt): 301 405-4684
Fax: 301 314-9343

Glori Hyman joined the IAA faculty in 1990 and became Director in July 2011 after serving as acting director for four years. Her area of expertise is in communication. She earned a B.A. in Communication Arts with specializations in Speech and Journalism from James Madison University. She completed her Master's degree in Professional Writing at Towson University.
Ms. Hyman teaches INAG 110: Oral Communication, INAG 111: Written Communication, and INAG 240: Professional Development Seminar. During her time with the IAA, she has served as the IAA's Public Relations Coordinator, Chair of the IAA/PCC committee, and editor of such IAA publications as Inag News, Institute Items, and the Student Handbook.
When asked what she does. Ms. Hyman says, "At the IAA, we keep the American Dream alive for students by providing access to a world class education and opening doors to successful careers."