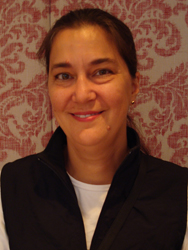 Pam Hosimer
Agent Associate
Expertise:
FSNE Nutrition Educator, School gardens, Special Librarian - agriculture and gardening
Title
Organizational Unit
Pam Hosimer
phosimer@umd.edu
Montgomery County Extension Office
18410 Muncaster Rd
Derwood, Maryland 20855
Phone (main): 301 590-2825
Fax: 301 590-2828

Pam Hosimer
phosimer@umd.edu
Food Supplement Nutrition Education
10632 Little Patuxent Parkway
Suite 435
Columbia, Maryland 21044
Phone (main): 410 715-6903
Fax: 410 715-6907

Pam received her Master of Library and Information Science degree, as a special librarian concentrating on agricultural and environmental topics, from the University of Maryland, College Park. She has been an active advocate for growing your own food and healthy eating by presenting at conferences and teaching workshops as a volunteer for Extension since she became a Montgomery County Master Gardener in 2008 and an original member of the state Grow It, Eat it team formed in 2009. 
Formerly a special education teacher in the public school system, Pam has been working with Maryland Agricultural Education Foundation, through a grant funded program, developing farm-based curriculum for Maryland middle schoolers.
In her free time Pam likes to visit gardens, volunteer in the community, read mystery books, drink tea and meet new people.