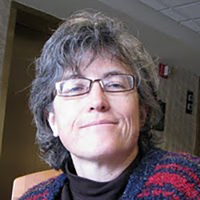 Trish Moore
Desktop Publishing Technician
Expertise:
Graphic Design, IT website , Information Graphics, Marketing
Title
Organizational Unit
Desktop Publishing Technician
Trish Moore
pmoore@umd.edu
Baltimore County Extension Office
1114 Shawan Road
Cockeysville, Maryland 21030
Phone (main): 410 887-8090
Phone (alt): 301 405-1293
Fax: 410 785-5950

Trish has worked in the capacity of Desktop Publishing Technician for the University of Maryland Extension in the Baltimore County Office since 2007. Her areas of expertise include designing publications, web design, social media, advertising, illustration, logo creation, concept work, photography and map making. Trish has over 25 years of teaching experience in addition to over 30 years of graphic design experience.