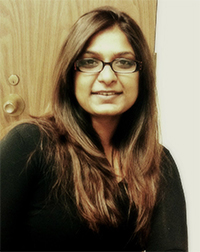 Dhruti Patel
Agent
Expertise:
Nutrition, Health, Food Preservation, Food Safety, Wellness
Title
Organizational Unit
Dhruti Patel
dhrutip@umd.edu
Wicomico County Extension Office
P.O. Box 1836
Salisbury, Maryland 21802-1836
Phone (main): 410 749-6141, ext. 104
Fax: 410 548-5126

Dhruti Patel
dhrutip@umd.edu
Food Supplement Nutrition Education
10632 Little Patuxent Parkway
Suite 435
Columbia, Maryland 21044
Phone (main): 410 749-6141, ext. 104
Phone (alt): 301 405-6244
Fax: 410 548-5126

Dhruti Patel is a Family and Consumer Sciences Educator who joined the University of Maryland Extension in 2012. Her primary areas of teaching are nutrition, health, wellness, food safety & preservation and stress. She serves Dorchester, Somerset, Wicomico, and Worcester counties in the eastern shore of Maryland. In her role as an educator, she assesses the nutrition and health needs in the community, develops educational programs, and assesses the outcomes. She successfully developed programs such as youth gardening, senior nutrition, worksite wellness, food preservation, mindfulness programs to address the local community needs. Her current programmatic and research focus is on creating well-rounded nutrition/ health based program that addresses overall wellbeing, using mindfulness approach in health programs, and food preservation methods (freezing, drying).
She successfully completed her MS in Nutritional Sciences from Texas Tech University, Lubbock, TX (2011). She received her and Post Graduate Diploma in Clinical Nutrition, Dietetics, and Hospitality Management from IHM, Mumbai (India) and BS in Food and Nutrition from B.M.N. College of Home Sciences (India). She possesses 11 years of clinical, community, and education-based knowledge in the field of nutrition.