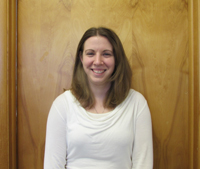 Jessica McClurg
Coordinator
Expertise:
Nutrient Management
Title
Organizational Unit
Nutrient Management Advisor
Jessica McClurg
jmcclurg@umd.edu
Allegany County Extension Office
One Commerce Drive
Cumberland, Maryland 21502
Phone (main): 301 724-3320
Fax: 301 722-4015

Nutrient Management Advisor
Jessica McClurg
jmcclurg@umd.edu
University of Maryland
College of Agriculture and Natural Resources
Environmental Science & Technology
1426 Animal Science/Agricultural Engineering Building
8127 Regents Drive
College Park, Maryland 20742
Phone (main): 301 405-1306
Fax: 301 314-9023

Jessica earned a B.S degree in Environmental Protection from WVU in 2007, with a minor in Soil Science.  Her coursework placed specific emphasis on soil and water conservation, which allows her to better serve agricultural producers in Allegany County with Nutrient Management Planning.  Jessica provides guidance to local producers in the areas of soil and manure sampling and spreader calibrations, and applies test results to write nutrient management plans for producers.  These nutrient management plans allow producers to remain in compliance with MDA regulations, while simultaneously preserving soil and water quality and also helping agricultural producers increase profits by eliminating unnecessary fertilizer applications.  Jessica previously worked as the Nutrient Management Advisor for Allegany County in 2008 and 2009, and she was happy to return in 2016 to assist local producers again.