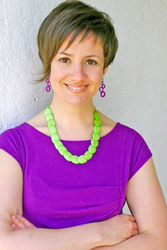 Kim Rush Lynch
Agent Associate
Expertise:
Ag Marketing, Agriculture Marketing, Marketing, Farmers Markets, policy
Office Location:
Clinton, MD
Title
Organizational Unit
Kim Rush Lynch
kimrush@umd.edu
Prince George's County Extension Office
6707 Groveton Drive
Clinton, Maryland 20735
Phone (main): 301 779-2806
Fax: 301 599-6714

Agriculture Marketing Specialist
Kim Rush Lynch
kimrush@umd.edu
Prince George's County Extension Office
6707 Groveton Drive
Clinton, Maryland 20735
Phone (main): 301 868-9366
Fax: 301 599-6714

Kim offers over 15 years of experience working with individuals and organizations in both the agricultural and health industries. She enjoys educating eaters on the role that local foods play in community health and economic development. Her main goal in her Ag Marketing Specialist role is to keep current farmers on their land and attract new farmers to Prince George's County by helping them make farming profitable. Kim helps farmers and farmers market managers navigate local regulations and create marketing strategies, and she eagerly promotes all things food, farmers markets, and farming in Prince George's County. She is particularly passionate about connecting the dots between rural and urban agriculture and ensuring access to healthy local foods for all Prince Georgians.
Kim's extensive experience in non-profit development and management, marketing, community outreach, teaching diverse groups, and coaching youth and adults helps her effectively promote the economic, environmental and health benefits of supporting local agricultural communities. She is committed to helping consumers connect to the food they eat and the hands that provide the healthy foods that nourish themselves and their communities in ways that are appropriate and meaningful.
Kim's professional experiences include working on an organic farm in Northwest Baltimore; serving as the Director of the Washington Youth Garden at the US National Arboretum; co-founding the Greenbelt Farmers Market; developing and marketing food education programs at the Greenbelt Co-op Supermarket & Pharmacy; teaching nutrition certification programs at Tulsi Holistic Living; and managing and marketing her health coaching and corporate wellness business, Cultivating Health. She has a BA in Biology from St. Mary's College of Maryland and has received additional certifications through the Institute for Integrative Nutrition and the American Association of Nutritional Consultants.
Kim serves on the Prince George's County Food Equity Council and the Southern Maryland Agricultural Development Commission. In 2014 and 2016, she was selected to participate in the Chesapeake Food Policy Leadership Institute. In keeping with her commitment to youth development and food education, she co-chairs the Prince George's County Public School's Academy of Environmental Studies Advisory Committee.
When she's not thinking about food, you can find Kim in her garden or at her local farmers market, biking, practicing yoga, roller skating or playing with her daughter and mini-schnauzer, Bilbo Baggins.