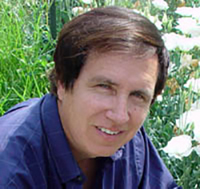 Stanton A Gill
Principal Agent
Expertise:
Nursery & Greenhouse Management
Title
Organizational Unit
Stanton A Gill
sgill@umd.edu
Central Maryland Research and Education Center
11975 Homewood Road
Ellicott City, Maryland 21042
Phone (main): 301 596-9413
Phone (alt): 410 868-9400
Fax: 410 531-2397

Specialty in Integrated Pest Management of greenhouse, landscape, nursery, and cut flower operations. Conducts field trials to evaluate alternative pest control and low-risk pesticides for controlling nursery, landscape , cut flower and greenhouse pests. Also, Professor in the Landscape technology program at Montgomery College teaching pest management, Greenhouse management and Nursery management. Published books: Pests and Diseases of Herbaceous Perennials - Ball Publishing of Chicago, IL- 2007. Authors: Gill, Cloyd, Baker,Clement, and Dutky Greenhouse Pests and Beneficials - Ball Publishing of Chicago Illinois- 1998. Authros: Gill and Sanderson Plagas, Enfermedades de Los Cultivos de Flores - Hortitecnia, Bopgata, Columbia - 2001. Gill, Clement and Dutky Insects and Disease of Herbaceous Perenials - CD Book, Horticopia Company, Perceville, VA. 2002. Gill, Dutky and Clement.